During the month of December, Conditioned Air Will Donate $25 for Every Repair or $100 for Every New System Replacement to a local Charity from our Preferred List!
Learn More
Looking for White Glove Service?
Explore options available for worry free, hands off service.
Schedule Service Today
Air Conditioning
Conditioned Air follows industry standards for all air conditioning installations to ensure your equipment operates properly...
Heating
We work on all brands and models of heating equipment, including heat pumps, gas furnaces, hybrid systems, and more...

HVAC Experts Providing 24/7 AC Repair & Replacement Services
in Naples, Venice, Ft. Myers, Englewood, Port Charlotte, Sarasota, Bradenton & Surrounding Areas
Conditioned Air is a full-service heating and air conditioning company. We offer trustworthy, reliable, and technologically precise AC repairs, installation, and maintenance for your heating and cooling equipment. Our goal is to deliver the highest level of professional HVAC service possible throughout Naples, Venice, Ft. Myers, Englewood, Port Charlotte, Sarasota, Bradenton, North Venice, FL, and the surrounding areas.
Expert AC Replacement, Repair, and Maintenance
An AC or heat pump system is a major purchase that you don't want to trust with just any HVAC contractor. At Conditioned Air, we do each job right the first time. Proper installation is key to HVAC performance, energy efficiency, and comfort. We follow strict industry standards to ensure that each installation is done properly. After installation, we're here to support you with responsive AC repair and maintenance services.
Maximize the Lifespan of Your AC
Professional Heating System Services
At Conditioned Air, we offer top-of-the-line products with proven performance and generous warranties. If repairs are needed, our friendly staff is ready to get your system running smoothly again. Annual heating maintenance includes a thorough inspection of all major components to ensure everything is working efficiently and safely.
Stay Warm and Comfortable When It's Cold
Indoor Air Quality Services
Indoor comfort includes maintaining good indoor air quality. Our indoor air quality products improve ventilation, regulate humidity, and remove dust, pollen, pathogens, and other pollutants.
Learn How To Improve Your Home's Air Quality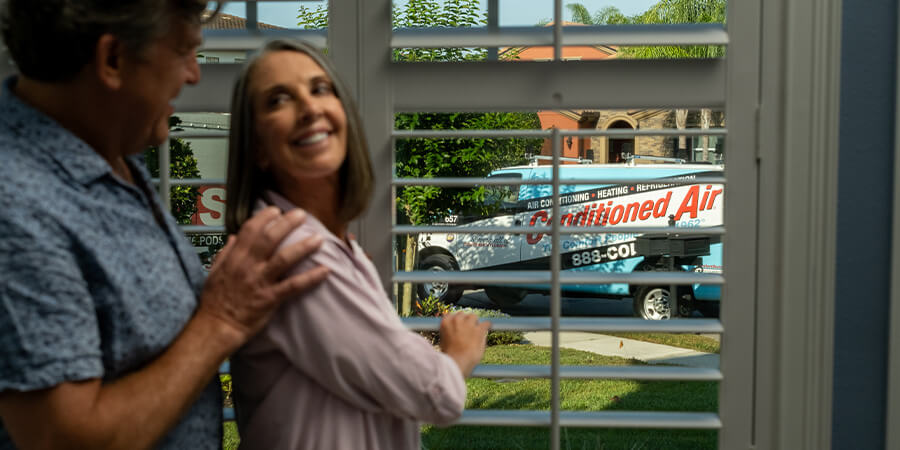 Ductless Heat Pump Systems
Ductless mini-split and multi-split systems are popular, allowing customized temperature control of individual zones for optimum comfort. Individual air handlers can be turned off when an area is not in use without affecting comfort in other spaces.
Experience Year-Round Comfort and Savings
Light Commercial HVAC Services
We install and maintain several types of HVAC systems suitable for small and large commercial enterprises. All you need to do is reach out to our service technicians and we'll conduct a full evaluation to diagnose the problem.
Maximize Energy Efficiency for Your Business
Why Trust Conditioned Air?
Conditioned Air has been helping make Southwest Florida more comfortable since 1962. We have the in-house resources to design, engineer, estimate, install, and maintain new construction, refrigeration, and dehumidification systems. Our innovative service solutions ensure maximum comfort at a minimum energy cost. We stand by our 100% satisfaction guarantee and will refund you in full for any purchase if you're not satisfied.
100% Purposeful Effort: Whether serving customers, coworkers, vendors, or other stakeholders, we are 100% committed to everything we do.
Respect: We consider the comfort of others with every decision we make.
Integrity: We believe in honesty and principled choices even when no one else is looking.
Safety: Whether in the field or office, we always strive to avoid the risk of danger or injury.
Exceed Expectations: We are not satisfied if we do not exceed the expectations of those we serve. Our experts are focused on high standards, not high-pressure sales tactics.
Schedule Your Appointment Today!
Experience Unmatched Comfort and Quality with Conditioned Air's Premium Service.
(239) 643-2445